Are you a home owner or are you looking for a rental? You can choose to rent through an agency or to rent from private to private . Save time and agency fees. Unlike other private to private sites, our site is 100% FREE. Owners can place their advert with photos for free in just a few clicks. Tenants can register for free, and apply on the adverts.
Rent an appartment by private individual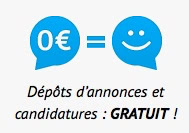 The advantage of renting by private individuals is that you don't have to pay any agency fees when dealing directly with the landlord. On the other hand, both the landlord and the tenant do not have the advantages of an agency, which will help you to draw up the rental contract, compile the tenant's file and check the supporting documents. On ImmoJeune.com, the tenants deposit their supporting documents and build up a complete rental file free of charge. This is the guarantee to save time and put all the chances on your side to rent directly by private individual. Owners who wish to rent from one individual to another therefore benefit from a high level of information for the applications received.
From particular to particular
To rent by private individual you must therefore have the elements that the law has made mandatory. Thus you must have the mandatory real estate diagnostics carried out, prepare the leases in accordance with the latest laws and carry out a detailed inventory of fixtures that will protect you and the tenant when the property is returned. You will find the necessary information for these different steps in your My Account area. Register free of charge to access these elements and to rent your property by private individual in all serenity.